Welcome to Art Nouvocative
Welcome to Art Nouvocative trade website.
When we began publishing greetings cards in 2012, our aim was to produce ranges that were a little bit different from the norm.
Our top quality cards are printed in the UK on 350gsm FSC accredited stock & our love of art & design has been instrumental in creating fabulous, stylish, vintage and inspired designs for the selective buyer.
If you are interested in stocking our cards, please click here to register and complete the application form.

A 5 mile radius exclusivity is guaranteed, subject to terms and conditions. Terms and conditions are available at the end of the registration page.
Please click the link above to access.
We are proud to represent incredibly talented artists and photographers, including Mo Welch, Ed Org & Shuna Harwood.
Mo Welch studied art at Southampton & on achieving her degree in Fashion Design in the 1970's, worked in Londons West End Fashion Houses for both Frank Usher and Yuki. We began publishing Mo's very striking Art Deco & Vintage inspired designs in 2015 and have continued adding to this collection which is hugely popular with our customers & stockists.
We were delighted to add Ed Org's Art Nouveau & Pre-Raphaelite inspired artwork to our portfolio in 2017.
On completing a 3 year BA Fine Art course at Cheltenham college of Art, Ed worked as an illustrator and graphic designer. During this time his commissions included the corporate design for Wychwood Brewery's Hobgoblin beer. Ed's mystical & mythological art are created in watercolour or intricate pencil drawings.
In 2018 we were thrilled to introduce the 'Fashion Sketch' Range by Oscar Nominated, & BAFTA Award winning designer, Shuna Harwood.

Shuna's interesting career began after graduating from the Royal College of Art. Initially working as Fashion Editor and illustrator for many companies including Harper's Bazaar, before switching to costume designing. Her lengthy filmography includes Brimstone & Treacle, Pretty Woman & Personal Services.
The Oscar nomination & BAFTA were for her work on Richard III
Here is a recent testimonial from one of our stockists Papa Luca. 15 Broad St, Lyme Regis Dorset DT7 3QE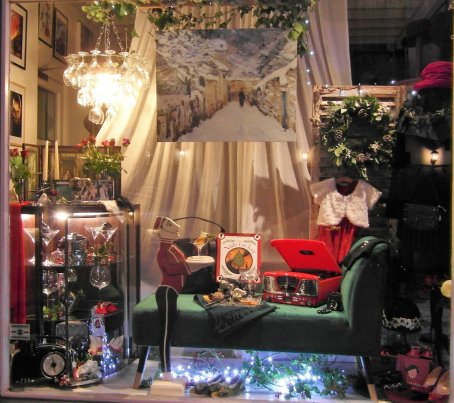 Upon taking on the shop in 2016 we were advised by the previous owner that greetings cards were not worth stocking. However a few weeks later we discovered Art Nouvocative & knew we'd found the perfect cards. We integrated the fabulous Mo Welch and Ed Org designs with our displays of clothing, accessories, gifts and vintage treasures. Carefully placed, the cards greatly enhance the stock and contribute, along with music and fragrances, which for many, proves to be an irresistible and compelling shopping ambience. So many of our customers enthuse about the cards and it is quite common to find them buying beyond their immediate requirements because they either can't decide which design they like most, or just want to have some beautiful cards in hand to send at a later date.
Art Nouvocative have given us an excellent service during the past year. Orders have been processed and supplied so promptly and helpfully and I wouldn't hesitate to recommend them to other retailers.
Here is another recent testimonial from King Edward Post Office in Harrogate, taken from their last order with us.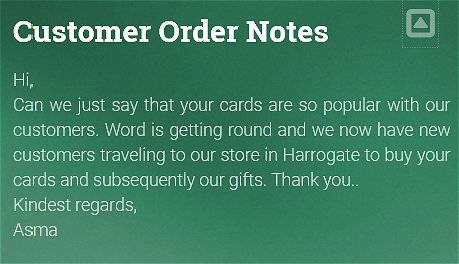 Click below to see -